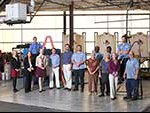 At Maryland Chemical our mission is to help. Whether you're searching for a particular product, or need to optimize a process involving chemicals in your business "We're Here for you!"
We're always happy to explore your company's needs and interest, whether it is:
a custom solution
an alternative product for use in your facility
advice or direction on which products can better support your company's objectives
or something else!
Our 60 plus years of experience mean we're here for you, with innovative options for a variety of INDUSTRIES.
CONTACT US today.
HOW WE CAN HELP
SOURCING

CUSTOM BLENDING

PACKAGING

TRANSPORTATION

CUSTOM PROCESS CHEMICAL SOLUTIONS

GREEN CHEMICAL OPTIONS

WAREHOUSING
Call us toll-free at 1-800-292-1967 (or in Maryland direct at:  410-752-1800) and let's talk about how we can help.
Click here to GET IN TOUCH