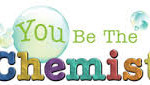 Maryland Chemical becomes founding sponsor for the Maryland "You Be the Chemist" program
After winning the prestigious 2014 National Distributor of the Year from the NACD (National Association of Chemical Distributors) President of Maryland Chemical, Jeanette Glose Partlow decided to get actively involved with growing the successful "You Be the Chemist" program in Maryland. The program already exists in schools in both Dorchester and Montgomery Counties and Jeanette is spearheading efforts to expand it to the greater Baltimore region. To find out more about the program click here.
Maryland Chemical has a longstanding commitment to the community and making the world a better place. We will be periodically updating this page to showcase our involvement and efforts and also post a list of other causes and charities we have supported.