Since 1953, companies throughout the Mid-Atlantic region have turned to Maryland Chemical for their industrial chemical needs. Our reputation for quality products, timely deliveries, and technical assistance is our greatest asset.
We anticipate your needs and we make it our commitment to provide you what is required at the time and in the quantity you prefer.
If not, please contact our Sales Department to get yours today contact us today or call: 1- 800.292.1967
PERFECT FOR SUMMER and stubborn ODORS – Our Sister Company Chemstation Chesapeake presents
Elim-An-Odor
The effective solution to all your persistent odor issues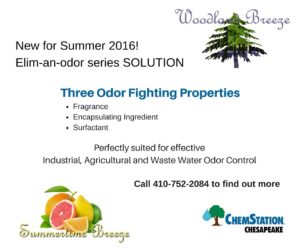 Elim-an-odor is a proprietary solution composed of 3 odor fighting ingredients including fragrance, an encapsulator and surfactants which make it the best solution for stubborn odors and particularly effective for application in the Industrial, Agricultural and Waste Water Odor control sectors.
This product is available in pails, del drums, drums, totes, and refillable tanks.
To learn more contact us at: 410-752-2084 or email us at: chemstationchesapeake@mdchem.com