Updates on the 2015 NACD Fly In with Jeanette Glose Partlow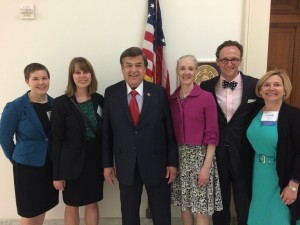 This past April 28-29th, Maryland Chemical President Jeanette Glose Partlow, attended the annual NACD Fly-In. Each spring chemical distributors and their supply chain partners from around the country meet with their elected officials in Washington, DC. Meeting face-to-face with legislators is the most effective way to get your message heard on Capitol Hill. This year's meeting also included an opportunity for female industry professionals to connect and network with a special dinner just for them.
Jeanette (2014 NACD DOTY) is a long standing member and board member of NACD. She along with a few other key women in the organization felt time had come to create a space where younger women could network and and connect with more established female NACD members.  Jeanette was also featured in "A Minute With" regarding her thoughts about the Fly In – on the NACD's informative blog prior to the Fly In. To view click here.
"Every Fly In is a renewed opportunity to learn how we, as members of the business community, and the chemical industry can be a resource to MD Delegation staff on current and future issues. " said Jeanette who attended 9 meetings with members of the Maryland Delegation explaining the story of Maryland Chemical, and their impressions of the Chemical distribution industry, its evolution, challenges and successes.
Jeanette also met with Congressman Ruppersberger  and had the opportunity to share about Maryland Chemical's growth, evolution the diverse jobs providing family-supporting wages and benefits they offer. They also used the opportunity to commiserate about shared sadness over the recent violence and unrest in Baltimore City and learned about how Congress intends to take actions to help.  She was particularly pleased to share the news of the first ever Maryland State You Be The Chemist Challenge which Maryland Chemical Inc, sponsored and share about the new State Champion from Tilden Middle School in Rockville, MD, with Maryland Senators and Congressional Representatives.